My life is what my imagination capable of
First weekend in April I spent in New York City in order to visit Yoga Journal Conference there. Here I would put my two cents in about this event. The Conference come to an end, so now is the time to digest all the impressions and to share the inspiration I've got there. I have been wishing to visit Yoga Journal Conference in New York for quite a long time. As you know, all wishes are to come true, here is the confirmation of this fact :)
My schedule was rather busy. Classes started at 8 a.m. - I wanted to meet new people from yogic mainstream, to take classes of renowned teachers, as well as to make some interviews for our magazine, and to take photos of the City as well as photos of the yogis.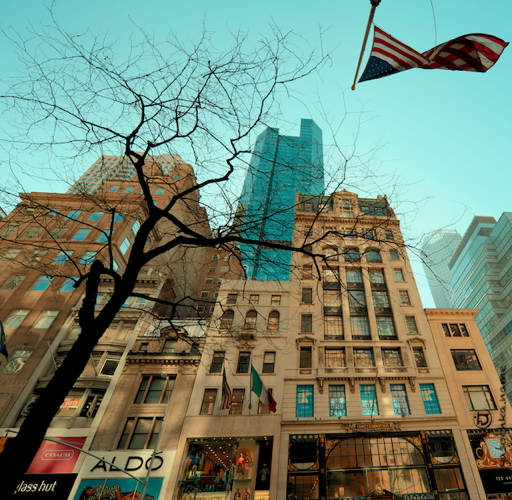 Here I'm going to share my overall experience of the Conference. And the most interesting part - interviews with American yoga celebrities are going to be published in the next issue of our Wild Yogi magazine. 
I intentionally used the word "celebrities" :) Yoga in US became a part of pop-culture long ago. Americans are known for their business skills and field of yoga is not an exception. So, wellknown yoga teachers are almost like celebrities in showbusiness. They have to come into the spotlight, publish books, make themselves known for charity projects or propagate environmental and animal protection to maintain own popularity. I'm not mentioning numerous workshops, conferences, master-classes. Thus, they are living lives of busy bees. They usually have their own media agents and assistants through whom one has to make appointments for interviews, meetings, etc. And the older a teacher is, the more circles of protection are around him/ her :) In our country one shell be happy that we are still able to talk with local yoga gurus easily without any need to deal with their secretaries. 
Of course it was impossible to attend classes of all the teachers on the Conference. There were more than 40 teachers while one can only attend 3-4 classes per day. Moreover, you had to choose teachers and classes that you would like to attend in advance - during the registration. After the registration you are still able to change your mind for an additional fee and only if there would remain availables places on the particular class (usually you could always find one). 
I have to pay tribute to Yoga Journal, they made the schedule highly interesting for maximum amount of people, who are connected with yoga in someway - it met various needs:
- for beginners - mastering basics;
- for yoga teachers - classes that give you Yoga Alliance credits;
- for owners of yoga studios - two days of the conference dealt with issues of effective yoga business development;
- for those, who are fed up with mastering only asana part of yoga practice - classes on meditation, pranayama and eight limbs of yoga;
- for those, who need to treat their or others injuries - therapeutic classes;
- for those, who want to attend classes while beeing unable/ unwilling to pay - a couple of classes and lectures per day were free; those classes were led by teachers (not the most famous ones of course) from local yoga studious.
There were six hours long intensives besides normal two hour long classes. Such format certainly allows one to get to know a teacher and his style much better, for it was not just an ordinary yoga class. A teacher had to be creative to entertain tens or even hundreds of people. However, this format is much more exhausting for practitioners as well as for a teacher and this, of course, affects an overall impression.
My personal schedule was quite diverse. First of all I had to attend classes of the teachers, whom I had planned to interview. Also I tried to chose the classes, which seemed potentially useful in the path of yoga teaching.
Classes of Ana Forrest appeared to be the most balanced in terms of comprehension, novelty, body work, breathing and concentration work. Here my judgement was partly affected by the closeness of her ideas to my perception of how yoga works. Afterwards we've had a long and interesting interview with Ana.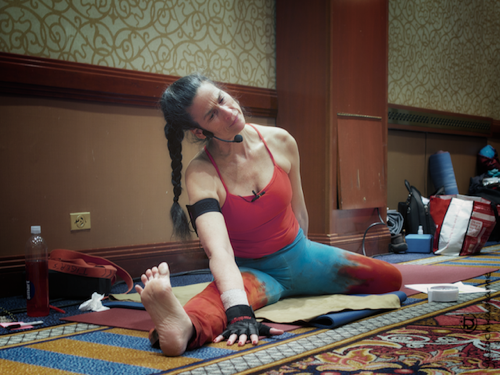 Ana represents her own yoga school - Forrest Yoga. During her classes Ana pays biggest part of the attention to work with the centers of psuchosomatic and physical tension accumulated in the body. According to Ana, one can become closer to a state of harmony with his spirit and nature, more receptive and open by removing tension from one's body, releasing the emotions that have led to its accumulation. During the class we focused our attention either on personal problematic areas in the body or on the body parts affected by the asanas. Ana makes all the sequences of asanas thought-out, purposeful and unique. She gives various poses in terms of difficulty. General outline of the training was quite intense due to prolonged retention, attention and breath work. During all classes most of the attention was paid to neck relaxation, which tightness is a scourge of a modern man. Have to admit constant neck relaxation makes a huge difference in your emotional state. And of course, Ana - is a bright charismatic personality, she is perfect in leading and inspiring, she pays lots of attention to all the students and uses her keen humor to cheer them up.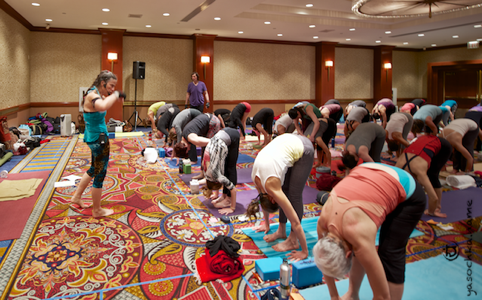 When you leave Ana's class you take new information along with new state of body and mind with you; it is rather uncommon for classes within the yoga conferences. More often one can get either lots of information or deep inner state, but not both. You will read a lot more about Ana in our interview with her, which is going to be published in the next issue of Wild Yogi magazine. 
The most useful in terms of teaching practice was class of David Life. It was class on troubleshooting during yoga practice. Class format was quite unusual -  one by one everyone asked about their problem areas, asanas or injuries that prevent them from practicing. David asked to show him the asana in which they felt the worst. And than… started the magical transformation of a caterpillar into a butterfly :)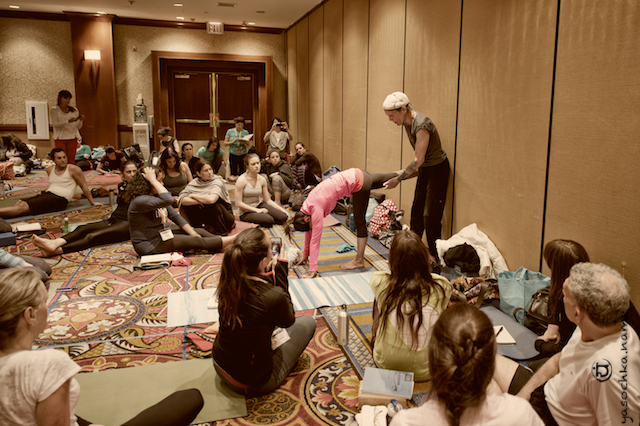 David accurately found roots of the problem, demonstrated how to align the asana for it to be comfortable and even useful for an injured area. He used simple body alignement as well as different props. David explained why and how such problems evolve. He also demonstrated, what should not be done not to make situation even worse. All explanations were visual and spiced up with fine sense of humor - two hours passed like 15 minutes.
Here you will find short fragment of video taken during David's class. 
Unfortunately such class format gives opportunity to analize problems of the most daring ones, who are eager to become a model in front of tens of eyes. You can find out more about Jivamukti yoga founders from my previous interview with them.
The most crowded room I observed during Leslie Kaminoff's class. He is a yoga educator, that's how he prefers to be described. He worked his way from swami in Sivanada's tradition to a highly respected educator in America, who is known for his specialization in the anatomy of breathing and for not recognizing the sole authority of tradition. You will be able to find out about Leslie more from our interview with him.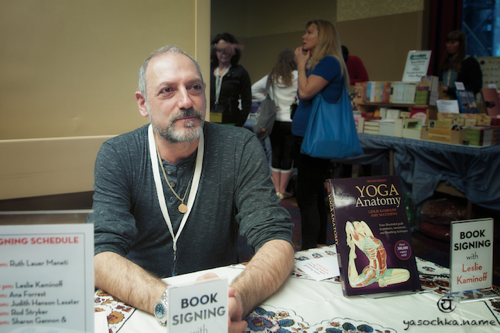 Talking about the class, it was the funniest class of all, as Leslie is a never-ending stream of jokes. In between his jokes Leslie interspersed information about pecularities of the human's physiology, patterns of movement and breath. He also strongly encouraged us to learn about his online courses. Working in pairs added some dynamics to the class. During partner work we have made some simple exercises in order to feel movement patterns of the own body. Overall the class was quite entertaining, however, it was rather a skillful presentation of the teacher and his line of activity than a class that gives you useful tools to be applied in the practice.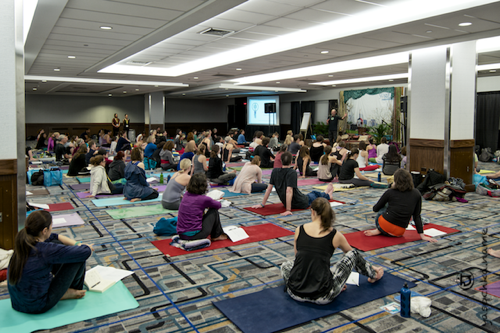 There was one very important aspect, which Leslie strongly emphasized - he is against any principle, which claimes to be the only true and correct. We are different. One has to be able to easily switch off congenial and cultivated models of breathing and movement in order to find the ones, which will work best for his body.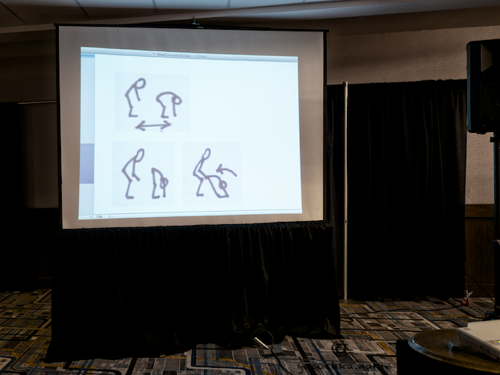 Rod Stryker, with whom I also had an interview, led a class on meditation. Rod represents tradition in lineage of Svami Rama - Svami Veda Bharati. As expected, meditation was not as popular as classes on physiology or active asana practice. Surprisingly most of the class participants chose to sit on the chairs in stead of common position on the floor. Rod even supported this choice by telling that vertical spine is more important than lotus position itself.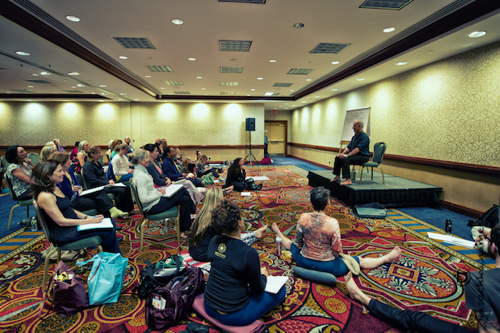 First, Rod explained main differences of various meditative techniques in a very comprehensive manner. Than we tried to practice some basic concentration techniques, which were rather preliminary stages than meditation itself. In between practice Rod answered questions, which were focused mainly on favourite themes on finding out the meaning of a particular sensation like tingling, heat, spinning etc. in one's body. According to Rod, the meaning of those sensations was exactly as the inquiring person wanted to hear - that he is on the right way if not towards the enlightenment, than towards meeting with own nature. Only after my question on usual for our mind distraction tricks during meditation, Rod gave an advise not to become over attached to all these sensations. What I liked the most is Rod's ability to explain difficult things in a simple and interesting manner.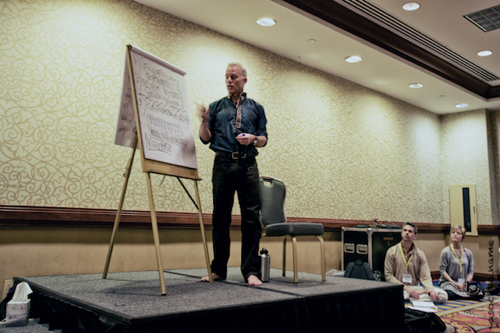 He is seriously devoted to his own practice (by spending several hours on it daily for more than 30 years). Moreover, he can teach meditation in an interesting, simple and comprehensive way.           
Kathrin Budig was quite diverse during her intensive class. She is one of the most popular and socially active young yoga teachers in USA.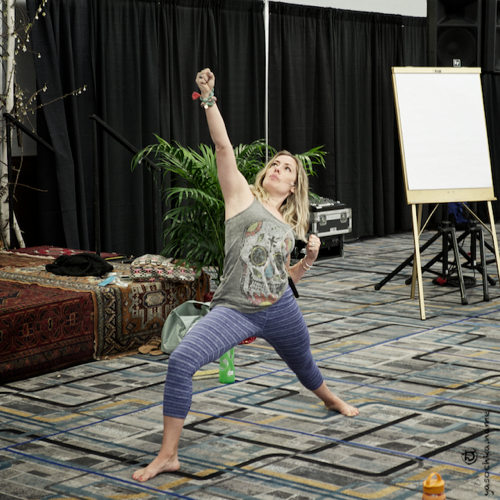 Thanks to the class length (six hours) we had plenty of time to have active asana practice, as well as inspiring talks about life, and analysis of the most challenging asanas, which evoke fear. In general this class was devoted to goal setting in yoga practice and in life. Though we've had an intense practice, the class reminded me psychological therapeutic group :) We devoted our practice to the beloved people, than to hatred people, than to ourselves. This exercise caused deep emotional feedback and even tears to some of the participants. We defined our goals along with our strong features, which help us to attain those goals. Some people shared their definitions with everyone in the class.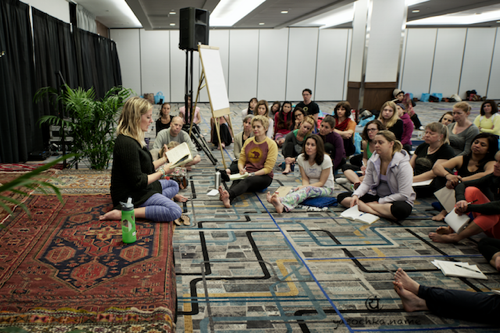 Kathrin told her own life stories, which helped her to illustrate importance of goals setting and conquerring fear of change. We also wrote down positive affirmations. Talking about yoga practice, Kathrin's sequences and adjustment style reminded me Ashtanga. So I was not surprised to hear that she had been studying Ashtanga for quite a long period of time.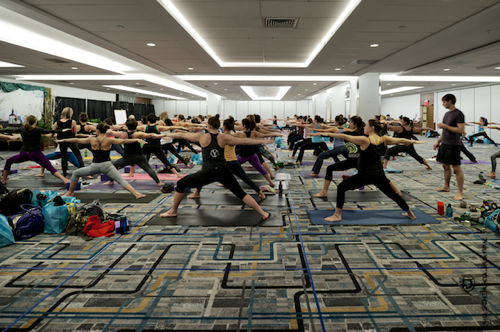 Kathrin is very cheerful, artistic, friendly and wise teacher. Despite unusual class format, which partly resembled Oprah's show (even Kathrin noticed it herself), I liked it a lot. However, I'd better omitt heart-to-heart talks in the future. :)
Moreover, there were kirtans, DJ mixes and yoga market full of products connected with yoga and healthy life style.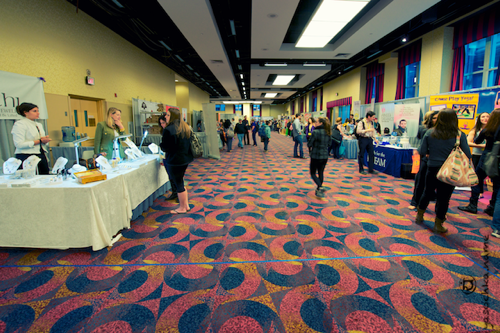 Generally, in addition to meeting western yoga pioneers it was very interesting to observe, what is happening in the yoga world there - it feels like a leap into the future. No matter how we deny, or how hard we try to look unique, development of yoga in our country (and not only yoga) is tens years behind America's trends. On the other side, we can learn on their mistakes, to develop in a more rapid way by using already invented wheel… Yet who learns on another's mistakes?..