My life - is what my imagination capable of Olga
Weekend passed rapidly owing to the conference of Yoga Journal, which took place on September in Moscow.
Events like this - is a perfect opportunity to get to know interesting yoga trends, to meet well known yoga teachers from all around the world, meet old friends and make new ones, not to mention having a great yoga practice.
The only flaw - is the busy schedule and parallel classes, when you need to make a difficult choice between two-three interesting themes. Here you'll need an important ability in yoga as well as in life - to distinguish significant and minor.
One can choose any approach: either to attend classes of bigger variety of teachers, or to choose one-two most interesting teachers and attend most of their classes. As for me, I prefer the second scenario, because the other one will definitely cause a sort of mess in one's head, considering contrary ideas different schools are often guided by.
Of course I made my choice, however, from time to time I was envying the photographer, who was to attend all the classes anyway to make such a great photo report.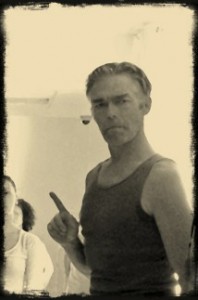 Considering limited time, I decided to choose those teachers, whom I had wanted to attend earlier but had no chance to see them in neither Moscow nor in Kiev. First of all it was Richard Freeman. For I've heard a bunch of good references about him. And after we've published an interview with Richard in Wild Yogi it would make me a "bad Karma", if I had not seen him personally.
If you had not attend his classes yet, you should know - any good reference about him - is true. Despite Ashtanga could not be considered as a very diverse style, Richard presents practice in a very artistic and easy manner, which makes it exciting and interesting. By the way, during his classes yoga hall was stuffed up with practitioners.
Mainly during Freeman's classes one had to listen and watch, than to practice vigorously. Richard uses eloquent and clear images to convey the principles of the adjustment in asanas or to explain functions and influence of all pranas - just like other experienced teachers. It has to be seen - how he can clearly convey properties of apana by the expression of his face only :)
Richard pays a lot of attention to the subtle inner movements and to the sensitive perception of the processes in one's body and mind during asana practice. In general, he conveys rather deep understanding of the yoga practice, much deeper than one can get during body work.
Also I managed to attend a couple of classes of Gert van Leeuwen, a Dutch teacher, who follows Iyengar and introduces so called "Yoga of critical alignment".
It is funny - have you ever noticed that most of the newborn schools grow on the ground of Iyengar's yoga. I wonder, why?
Going back to Gert, the main idea of his system is to use deep (postural) muscles of the body during yoga practice as well as in everyday movements.
Various devices, like props, invented by Gert are playing an important role in the body work here. Naturally this type of practice was mainly appreciated by practitioners of Iyengar's yoga as well as by yoga-therapeutists.
As for me, this yoga style seemed too much centered purely on body work, however, I must say, that Gert raised a topic of Ego and its influence on practice and on different movement patterns. It was also interesting to find out, how to make those postural muscles work easily. Generally speaking, it's difficult to name this rather specific practice "yoga" in the full sense. Nevertheless, one can get a bunch of interesting information in terms of physiology and biomechanics from Gert.
I must mention special thanks to the girls, who translated the lessons of Freeman and van Lyuen, for they deserve rewards for excellent translation, knowledge of the topic and specific terms, endurance, and separately - people's choice award :)
It's great that we have more and more yoga conferences and festivals like this happen, they give an opportunity to expand horizons and understanding of the practice, as well as to get acquainted with new people.